Sareb makes 21,000 homes available to Public Authorities
Sareb is offering Public Authorities the opportunity to acquire a total of 21,000 homes that could be used to increase the country's stock of social rental housing. Of all the homes listed, 9,000 units are already being marketed via non-institutional channels, while the remaining almost 12,000 either have an administrative formality that needs finalising or refurbishment work that needs completing before the homes are suitable for rent. In many cases, this work or process is already underway, and the properties are expected to be fit for purpose within 6 to 12 months.
In terms of where the properties are located, it is clear to see that they formed part of the property portfolio that Sareb received between 2012 and 2013 from the former savings banks and their subsidiaries that received state-backed support via FROB during the financial crisis. As such, the areas featuring the largest number of homes are those located along the Mediterranean coast and in some provinces of Galicia, Castilla-La Mancha and Castilla y León.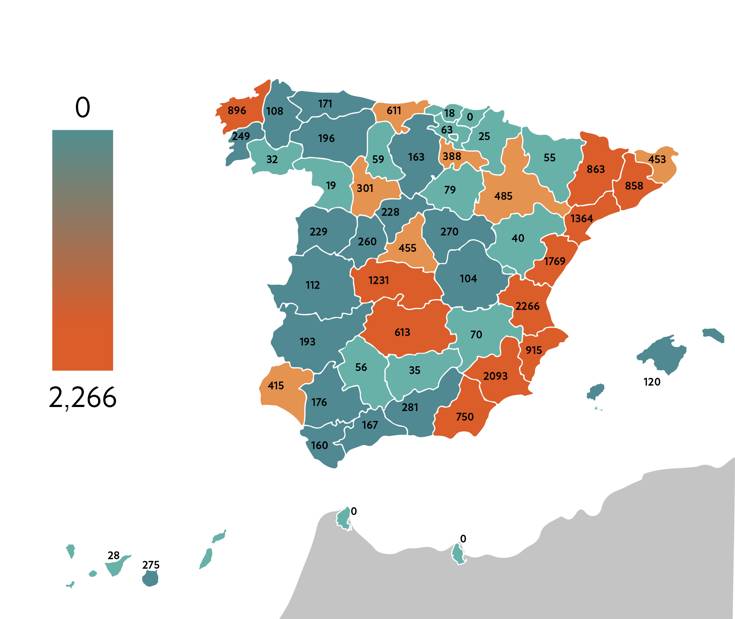 The homes selected as part of this initiative have already obtained their First Occupancy Licence (LPO). The 9,000 that are already being marketed via non-institutional channels are in an acceptable state of repair and are the typical homes purchased by private homebuyers on the resales market.
Meanwhile for the almost 12,000 remaining homes, the work which is required varies depending on the property in question. In some cases, there is just an administrative formality that requires finalising before anybody can rent the property, such as the energy performance certificate, while in others, some refurbishment work is required. Sareb estimates that between 6 and 12 months will be needed to finalise and complete the work or processes that are required for these properties.
Sareb has a specialist team of professionals that liaises with all the autonomous regions and city councils interested in acquiring its homes. Creating this list for the authorities has allowed Sareb to continue to fulfil its divestment mandate while also championing its commitment to sustainability and making a positive social impact. By offering autonomous regions and city councils the opportunity to acquire these properties, it means they can ultimately be used to increase the country's stock of social housing.
| | |
| --- | --- |
| Provinces | Available homes |
| Albacete | 70 |
| Alicante/Alacant | 915 |
| Almería | 750 |
| Araba/Álava | 63 |
| Asturias | 171 |
| Ávila | 260 |
| Badajoz | 193 |
| Balears, Illes | 120 |
| Barcelona | 858 |
| Bizkaia | 18 |
| Burgos | 163 |
| Cáceres | 112 |
| Cádiz | 160 |
| Cantabria | 611 |
| Castellón/Castelló | 1769 |
| Ceuta | 0 |
| Ciudad Real | 613 |
| Córdoba | 56 |
| Coruña, A | 896 |
| Cuenca | 104 |
| Gipuzkoa | 0 |
| Girona | 453 |
| Granada | 281 |
| Guadalajara | 270 |
| Huelva | 415 |
| Huesca | 55 |
| Jaén | 35 |
| León | 196 |
| Lleida | 863 |
| Lugo | 108 |
| Madrid | 455 |
| Málaga | 167 |
| Murcia | 2093 |
| Navarra | 25 |
| Ourense | 32 |
| Palencia | 59 |
| Palmas, Las | 275 |
| Pontevedra | 249 |
| Rioja, La | 388 |
| Salamanca | 229 |
| Santa Cruz de Tenerife | 28 |
| Segovia | 228 |
| Sevilla | 176 |
| Soria | 79 |
| Tarragona | 1364 |
| Teruel | 40 |
| Toledo | 1231 |
| Valencia/València | 2266 |
| Valladolid | 301 |
| Zamora | 19 |
| Zaragoza | 485 |
| Total | 20768 |
| | |
| --- | --- |
| Autonomous Community | Units |
| Andalucía | 2.040 |
| Aragón | 580 |
| Asturias | 171 |
| Baleares | 120 |
| Canarias | 303 |
| Cantabria | 611 |
| Castilla y León | 1.534 |
| Castilla-La Mancha | 2.288 |
| Cataluña | 3.539 |
| Extremadura | 305 |
| Galicia | 1.285 |
| La Rioja | 388 |
| Madrid | 455 |
| Murcia | 2.093 |
| Valencia | 4.950 |
| Ceuta | – |
| Melilla | – |
| Navarra | 25 |
| País Vasco | 81 |